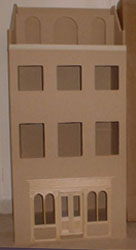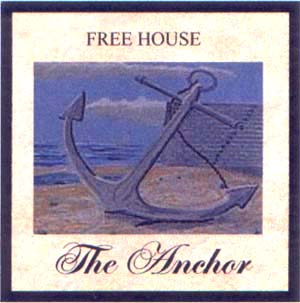 We started by buying Acorn Antiques,

by the Dolls House Emporium.   

The house and most of the bar furnishings were

supplied by Matlock Miniatures.

The original of this sign belongs to

"The Anchor", Caunsell Road,

Caunsall, Worcs, DY11 5YL,

and is used with kind permission of the owners, Jeanette and Pete Green

The ground floor is the bar, with an open fire.

One room on the first floor will be the "office" of the resident tart, whilst by leaving out the staircase I can also house Mystical Mahlig - Your Future Foretold.

On the second floor will be a more serious games room,

with a beer garden on the roof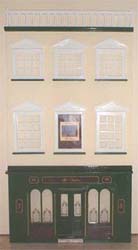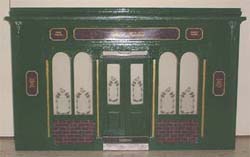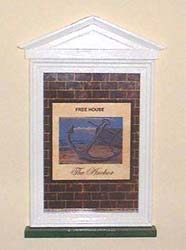 On the left, straight out of the box and put together dry, held in place with masking tape.

On the right, the frontage completed,

painted cream with white window frames, dark green for the ground floor, picked out in gold and decorated with brown marble.

The inn sign is fitted into the first floor central window frame.

On the right, a closeup of the inn sign in the window frame, against brown marble tiles.

Above, a closeup of the bar frontage, showing the gold trim, brown marble fascia and side information boards, tiles under the windows, and decorative window panels.  There is also a mosaic doorstep, with "The Anchor" in an oval panel to match the window.above the doors.


To avoid construction details given on the following two pages, please take the

Express Elevator direct to The Bar